October 8, 2018 - Yabu Pushelberg Designs Two Luxe Rug Collections for Warp & Weft and Tai Ping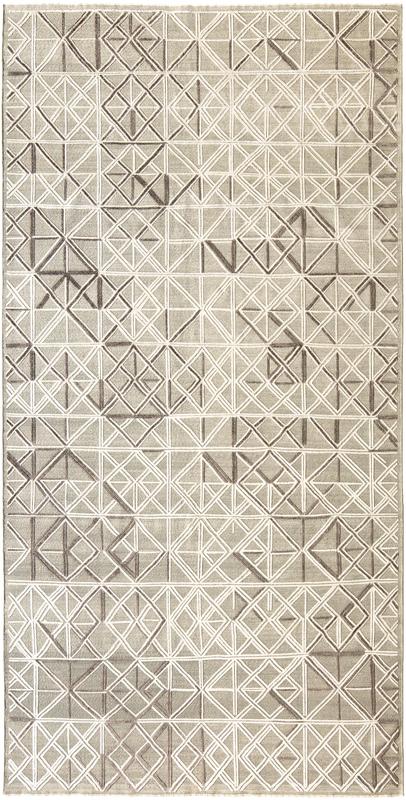 Yabu Pushelberg Designs Two Luxe Rug Collections for Warp & Weft and Tai Ping by Luke T. Baker

Read More
September 14, 2018 - Bridgehampton Remodel Project
Made custom to fit the space of this home, our very own
Twilight Circle
is featured in this beautiful remodeling of a Bridgehampton home.
Read the full article →
August 8, 2018 - Planar Featured in Luxe.Daily
8 Edgy Pieces That Channel Desert Living By Elizabeth Huebsch
Click to read more
March 16, 2018 - GRID: Phase II at ADDS 2018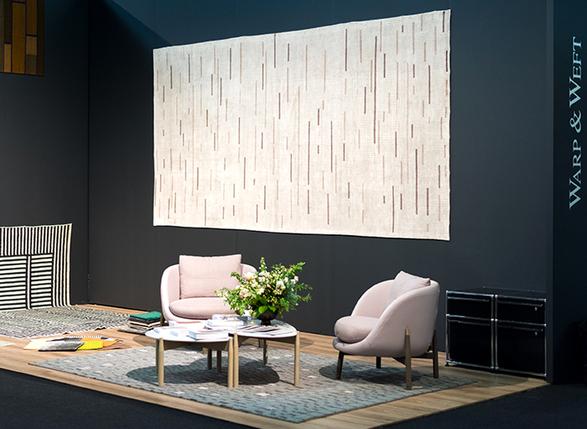 Warp & Weft unveils Phase II of GRID: a grand collaboration between Warp & Weft and Yabu Pushelberg at the Architectural Design Show!
March 22nd - 25th
Booth 305
Find out how to register
here
Register with our code: "
WARPWEFT
" for a complimentary ticket
January 2, 2018 - DOMOTEX: 2018 Carpet Design Awards
The finalists for DOMOTEX's Carpet Design Award have been chosen...
Read More
December 6, 2017 - GRID Collection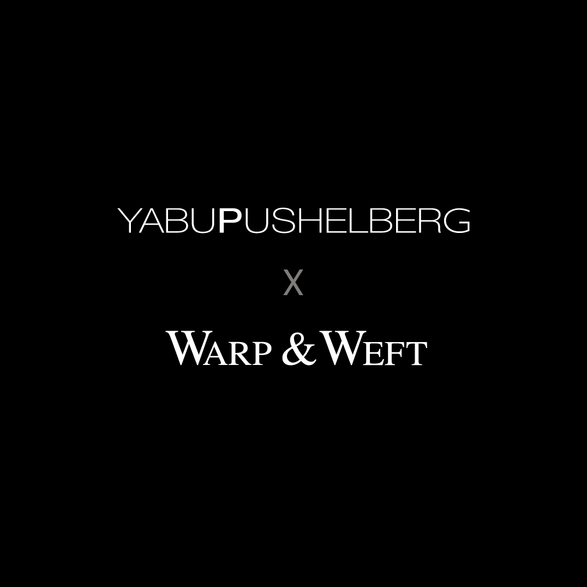 Warp & Weft has teamed up with Yabu Pushelberg to create GRID, a collection of beautifully crafted and textured flatweaves that has been featured at this year's Boutique and Design Trade Show.
GRID is inspired by the geometric and rigid shapes of urban landscapes. The underlying result creates a soft look, full of depth and sophistication, allowing it to adapt into any space.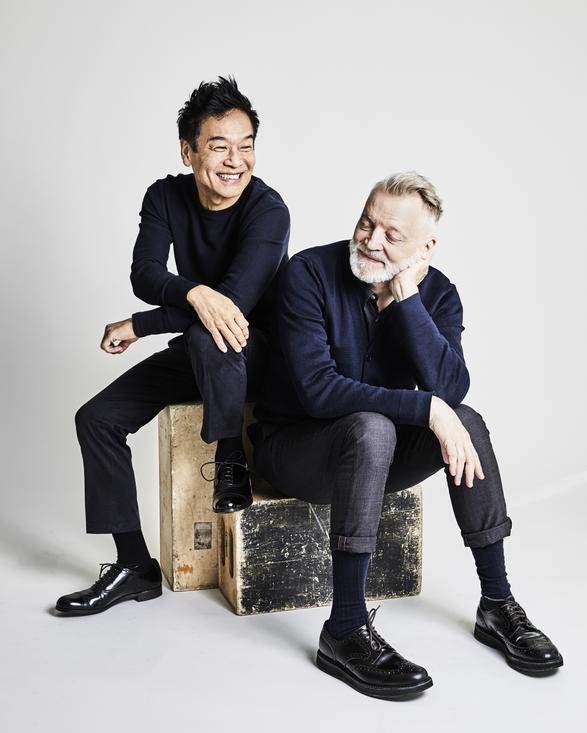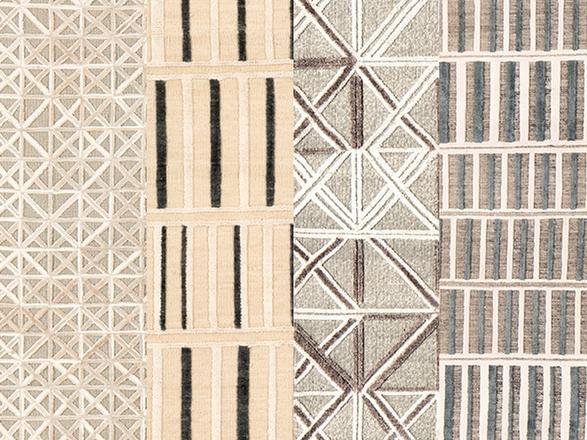 GRID contains a total of twelve new designs, four of which have been featured and we're excited to unveil the rest in the upcoming year!
Tangent, Axis, Stria, and Planar are available now in custom sizes and colors.
November 10, 2017 - Warp & Weft at BDNY!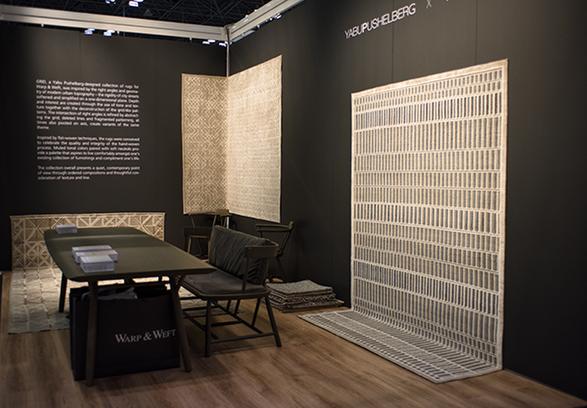 Warp & Weft is unveiling four new special rugs in collaboration with Yabu Pushelberg at BDNY!
Look for us at booth #
1633
Jacob K. Javits Convention Center
New York City
Sunday, November 12
10:00am - 5:00pm
Monday, November 13
10:00am - 5:00pm
Register with our special code:
Warp2062
(Non exhibiting manufacturers, CEU conference sessions and networking events are not included)
Find more information
here.
We look forward to seeing you there!
May 19, 2017 - 29th Annual ICFF!
March 16, 2017 - Find Warp & Weft at the Architectural Digest Design Show!
Warp & Weft is showcasing a new selection of flatweaves and hand-knotted rugs!
Thursday, March 16th
10:00 A.M.-6:00 P.M Design trade & VIP
Friday-Saturday, March 17th-18th
10:00 A.M.-6:00 P.M All ticket holders
Sunday, March 19th
10:00 A.M.-5:00 P.M All ticket holders
Receive a complimentary ticket with the promo code: "
WARPANDWEFT
" by the end of the day, March 15
See you there!
March 14, 2016 - Architectural Digest 2016
Warp & Weft will be at Architectural Digest's 2016 design show this week!
Come see us from March 17th - March 20th
Located on Piers 92 & 94
711 12th Ave
For more information, visit:
http://www.addesignshow.com/
January 2, 2016 - Expansion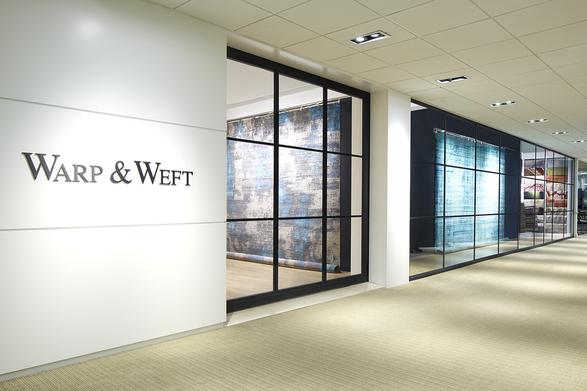 We've expanded our space! Come visit the 12th floor in the D&D building on 3rd Ave.
December 2, 2015 - Warp & Weft in Christie's survey on modern rugs
Go to article here
November 13, 2015 - Job Opening: Showroom Assistant
Warp & Weft seeks a highly organized, personable, and design-focused Showroom Assistant. Responsibilities include, but are not limited to, greeting clients, directing client inquiries, assisting Sales Associates, inventorying samples and rugs, and completing various showroom ad-hoc projects (product tearsheets, image library, samples display, merchandise photography etc). There is room for growth in this position for the right candidate.
Job Requirements:
- Proactiveness and willingness to take initiative
- Excellent verbal and written communication skills
- Positive and outgoing demeanor
- Ability to multi-task
- High proficiency with MS Office Suite, Adobe Photoshop
- Background or interest in Interior Design preferred
- Passion for color and education in color theory is a plus
please forward resume and a brief cover letter to resume@warpandweft.com
May 15, 2015 - Warp & Weft at ICFF!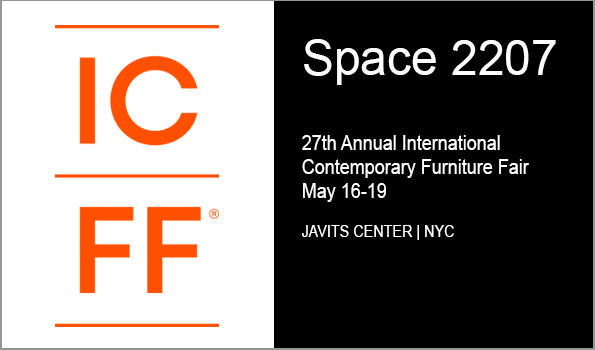 May 1, 2015 - Warp & Weft at Maison Objet!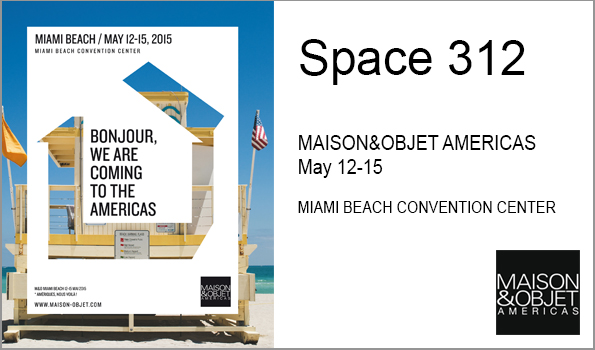 January 2, 2013 - Warp & Weft in the D&D Building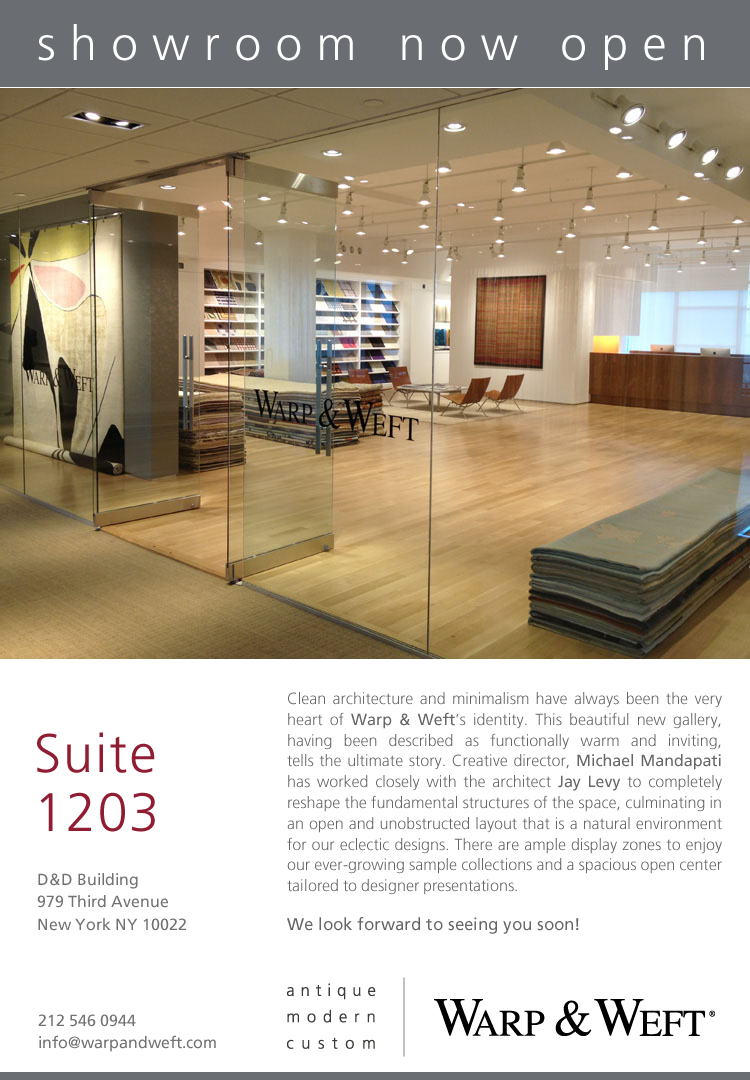 December 5, 2012 - BOY Awards Winner - Best Rug 2012!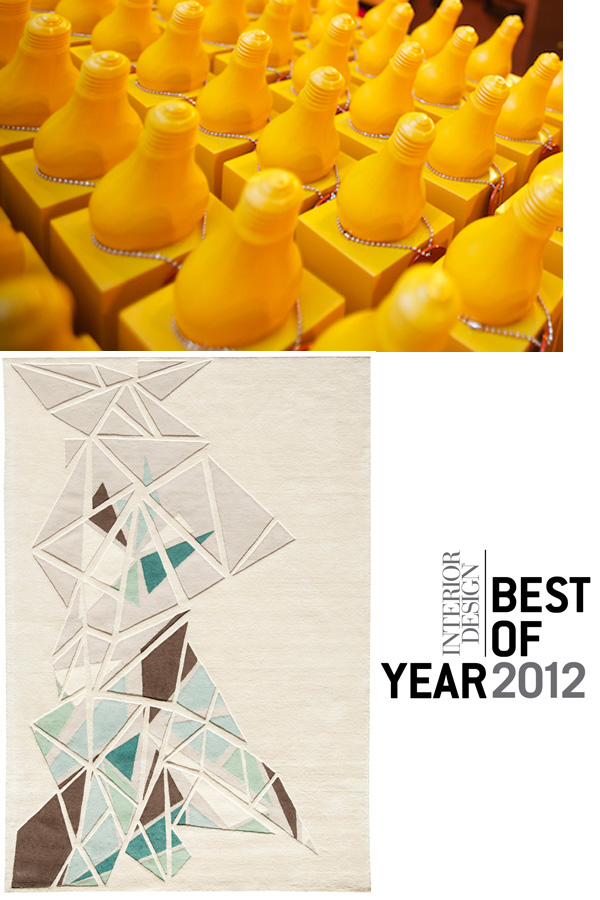 It is with great pleasure we announce Warp & Weft is the Winner of the
Best of Year Awards 2012
by Interior Design Magazine in the
carpet/rugs
category!
The design that has earned us this honorable title is
Kaleidoscope
- our earlier exciting collaboration with FIT textile design student Charlotte Rodiere.
"The Bulb" - a trophy for the winner, has always been like an "Oscar" to us in the interior design world. We are so grateful for the journey that brought us to this result and thank everyone who shares our vision of beauty and quality!
Look forward to the new heights!
November 7, 2012 - Tsubaki Color Wheel Collection at BDNY Show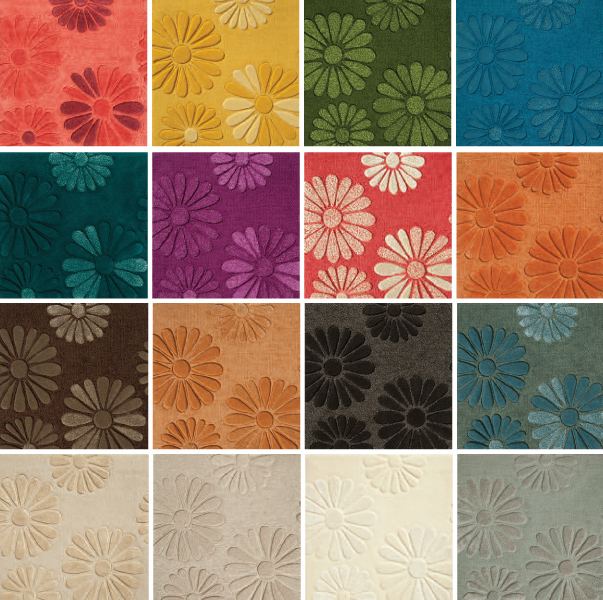 Third annual BDNY show is approaching and we are excited to unveil the Tsubaki Color Wheel Collection of hand-tufted samples that was developed exclusively for the show.
The collection uses one design ("Tsubaki" which is japanese for "Camellia flower") and a numerous array of colors, fibers and surface execution. With these samples we wanted to demonstrate the vast ability to customize and show how the same pattern changes when fibers or blends of fibers and pile heights are executed in different ways.
The eye is invited to dance over the delicious variety of color shown and notice the textural details. Silk reflects the light and wool absorbs it, but true mastery in custom comes with blending those fibers strategically to honor the project's goals. We have also introduced blends with linen - a wonderful sustainable fiber with a soft sheen.
Please visit our booth 4301 on November 11-12 at the Javits Center North to be the first to view the Collection "live"!
November 14, 2011 - FIT Rug Design Contest Winners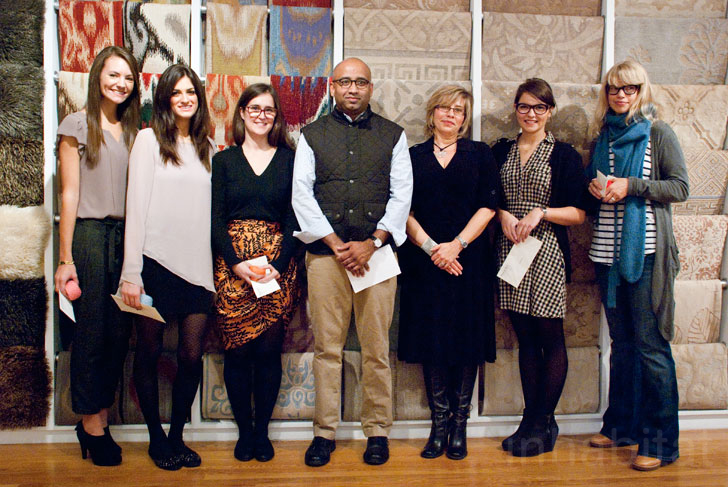 Left to right: Stephanie Gales (4th place), Michelle Parascandolo (5th place), Carolina Mandia (3rd place), Michael Mandapati (owner of Warp & Weft), Deborah Hernandez ("Rug Design" class professor at FIT), Charlotte Rodiere (2nd place) and Denize Sofia Maaloe (1st place). © 2011 Amanda Silvana Coen
We are thrilled to announce the five finalists of "Contemporary Creations": A Rug Design Competition for upper division Textile/Surface Design Program students at the Fashion Institute of Technology.
24 entries were submitted and we were fascinated by the diversity of styles (from very minimalist to very elaborate) and mediums used to express the artwork (paint on silk, sunprint and even strands of macaroni!). The competition was very tough and our jury had an incredibly difficult time making their choices.
The 1st winner is "Full Circle" by Denize Sofia Maaloe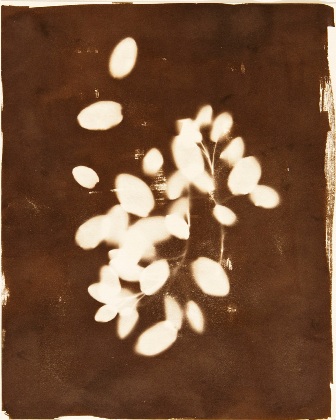 Her idea was to bring healing and peaceful energy into the home. She grows healing herbs and plants, which inspired her to make a sun-print of sage, an herb known for it's home blessing properties. This design will be made into a 6'x9' hand-knotted wool & silk rug.
The second winner is "Kaleidoscope" by Charlotte Rodiere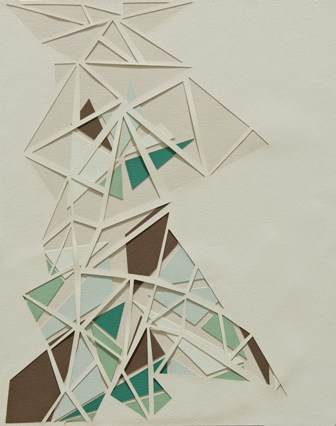 Her inspiration came from kaleidoscope effects and resulted in a bold pattern made of angular shapes and strong colors juxtaposed with neutral ground. This design will be made into a 6'x9' hand-tufted wool & silk rug.
The two rugs will be exhibited at the ICFF 2012!!! They will also become a part of the company's Designers' Studio Collection.
You may view the three runners-up designs and pictures from the Winners Announcement event at our
Facebook page
.
We have enjoyed every moment of the contest and look forward to translating these beautiful artworks into gorgeous carpets!
October 6, 2011 - Contemporary Creations – Rug Design Competition with FIT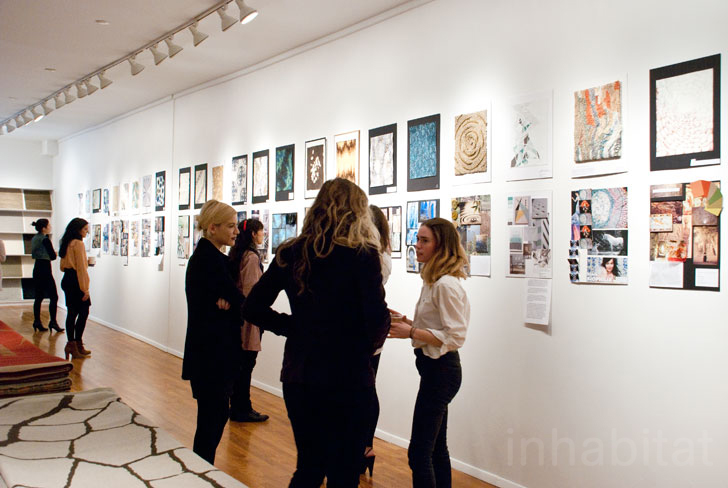 © 2011 Amanda Silvana Coen
Warp & Weft is delighted to announce its sponsorship of Contemporary Creations – A Rug Design Competition for The Fashion Institute of Technology's upper division Textile/Surface Design Program students as part of their "Custom Rug and Carpet Design" class taught by instructor / rug designer Deborah Hernandez. The submitted work will satisfy the students' first project requirement for the Fall 2011 semester. Contestants, who will submit a contemporary design in an open medium, are being given total freedom in expressing ideas for pattern and colors.
Project/Submissions are due on October 7th and soon after will be judged by a diverse panel of professionals:

The first place winner will receive $500 and an opportunity to interpret the design into a 6'x9' hand-woven rug made in Warp & Weft signature 100 knots quality. The second place winner and three runners-up will receive cash prizes.
We believe it is important to foster new talents, and are happy to provide an opportunity for soon-to-be-designers to show their best through innovative concepts in the world of contemporary rug design.
About FIT
FIT, a leader in professional career-oriented education, is a college of art and design, business and technology of the State University of New York (SUNY), with 46 majors leading to the AAS, BFA, BS, MA, MFA, and MPS degrees. The college serves more than 10,000 students and offers courses in a wide range of fields. Visit
www.fitnyc.edu
.
June 23, 2011 - Warp & Weft Highlands Collection in the New York Times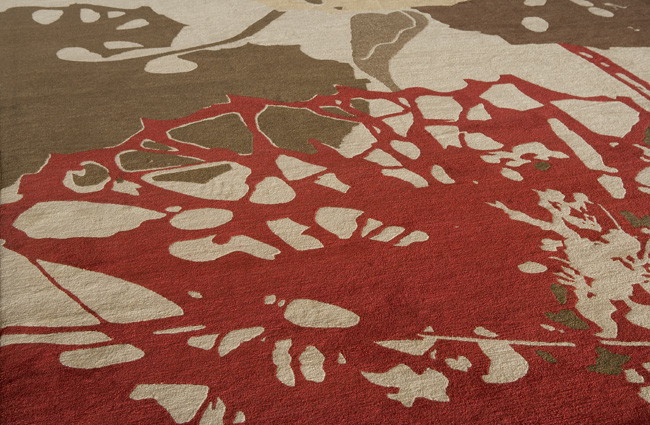 Find out about our new
Highlands Collection
in the article "Rugs Inspired by the Kimono" by Rima Suqi from the Thursday, June 23rd issue of the New York Times.
To read the article please click
here
May 31, 2011 - The 23rd Annual ICFF Show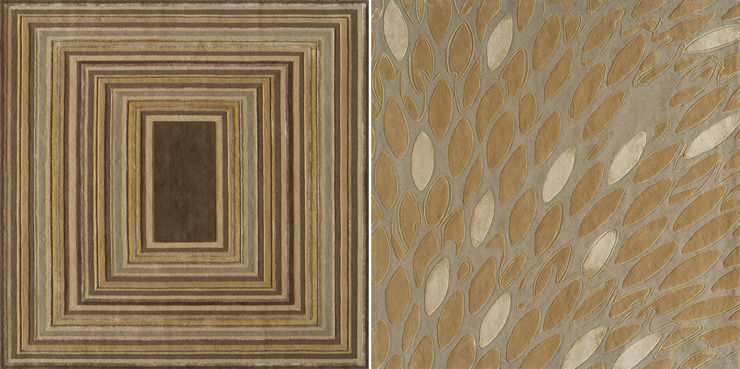 We had a fantastic time at the ICFF 2011 and wanted to thank everybody who stopped by our booth and marveled at the showcased "Echelon - Gilt and "Mum - Gilt" rugs (above). For those who didn't get a chance to visit, we are happy to officially introduce our hand-tufted
Organica Collection
, which has received a phenomenal response at the show!
Every rug is made to custom specifications and the lead times are close to instant gratification – five weeks for an 8'x10'. Most designs are implemented in semi-worsted Merino wool and twisted silk and feature a variety of textures and pile heights to create sophisticated surface that is both visually exciting and incredibly soft on the touch.
To view the collection, please click
here
.
September 24, 2010 - Warp & Weft in Wall Street: Money Never Sleeps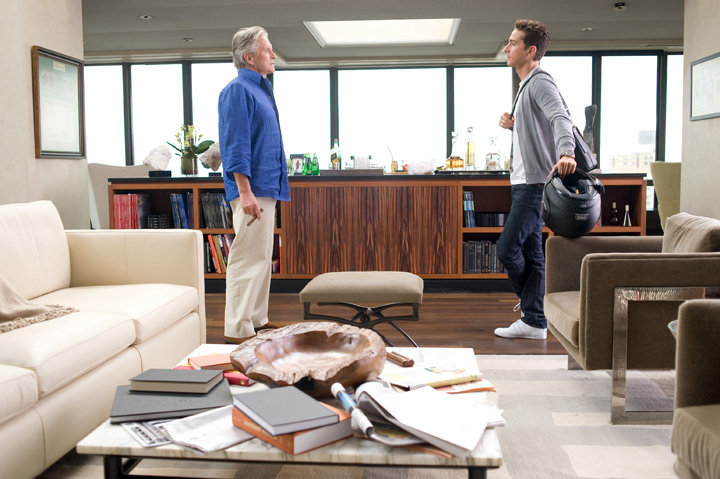 "Wall Street: Money Never Sleeps" is finally out and we can all marvel at the beautiful interiors of the main characters' homes.
Gordon Gekko has always had an impeccable taste for beautiful objects: three Warp & Weft rugs from the Modern Collection decorate the floors of the Financial Master's stunning penthouse!! The central piece is 10'x14' "Stripes – Steel" anchored by an 8'x10' "Structure – Slate" and 8'x10' "Structure II – Slate". Designed with similar minimalist aesthetic in cool grey shades, these rugs blend beautifully together and enhance the layout of the space.
For more info and availability please contact
info@warpandweft.com
July 6, 2010 - Warp & Weft DC Gallery Wins Architecture Awards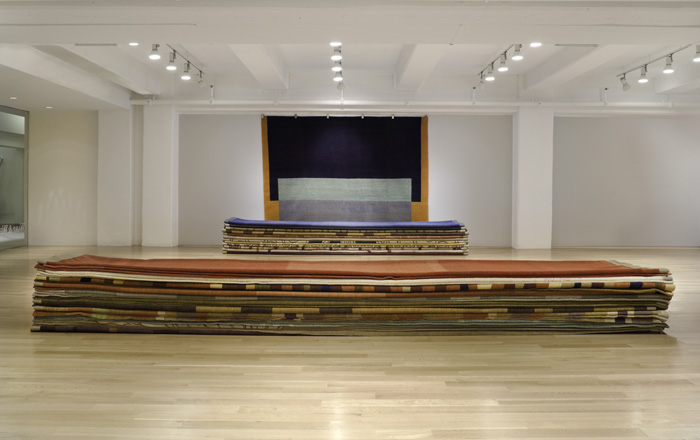 Warp & Weft is pleased to celebrate with David Jameson Architects Inc the design awards won for the Warp & Weft gallery in the Washington Design Center. The recognition includes the Award of Excellence in Interior Architecture by the Northern Virginia AIA and the Award of Merit: Interior Design from the Inform Awards. In the achievement of these awards is the recognition of the importance of the shared vision of David Jameson and Michael Mandapati. Through their collaboration every detail of the gallery was handled with careful consideration resulting in a truly original structural statement that highlights the design integrity and diversity of Warp & Weft's Collections.
For more information on the awards please visit:
www.aianova.org/DA09
www.virginiaarchitecture.org/inform_awards.html
December 22, 2009 - We have a winner!
Warp & Weft would like to thank everyone who took part in the annual GoodWeave™ Rug Raffle, and donated thereby to the GoodWeave Campaign to End Child Labor. The winning ticket was drawn at the GoodWeave's holiday luncheon on December 16th by our Washington DC gallery manager Ilyssa Gross who was happy to announce that the beautiful Riviera Caramel rug now belongs to winning ticketholder Katie Fox.
Katie is a lifelong advocate for democracy and human rights, and the deputy regional director for Eurasia at the National Democratic Institute (NDI), a nonprofit, nonpartisan organization working to support and strengthen democratic institutions worldwide through citizen participation, openness and accountability in government. Katie has already acquired one GoodWeave rug last year and is intended to purchase only certified products in the future.
The collective participation of GoodWeave supporters in this raffle helped raise more than $10,000! With your contribution, you have done nothing less than help save the lives of children in India and Nepal and provide schooling for former child laborers and other at-risk children in those nations.
We hope you will continue to support GoodWeave in 2010 by choosing GoodWeave certified products for your home, which now include our beautiful carpets. Please visit website
www.GoodWeave.org
, for updates and information about how your gift is working for the children of South Asia.
November 10, 2009 - Enter RugMarks 2009 Anuual Carpet Raffle
Enter for a chance to win the handwoven wool & silk
Riviera Caramel
rug certified child-labor-free by GoodWeave and donated by Warp & Weft.
All proceeds benefit
RugMark
, the organization behind the GoodWeave program to stop child servitude in South Asia's handmade rug industry, and donations are tax-deductible to the extent allowed by law.
Riviera Caramel
, measuring 8' x 10' with a retail value of $10,800, is part of Warp & Weft's Modern & Custom Collection designed primarily by Michael Mandapati. Hand woven in Nepal and made from pure Tibetan wool and Indian mulberry silk, the design echoes differing images from nature, from topographical maps to tree bark.
Raffle tickets are $25 each, 5 for $100, or 12 for $200. For a gift of $500 you'll earn 32 chances to win and for a $1,000 contribution, your name will be entered 70 times. The deadline to enter the raffle online is December 10th at 5:00 pm. You need not be present at the drawing to win.
Buy your raffle tickets online at
www.GoodWeave.org/raffle
If you prefer, you may mail a check made out to RugMark, the organization implementing the GoodWeave certification program, with "2009 raffle" in the memo line to 2001 S Street NW, Washington, DC, 20009.
November 10, 2009 - Warp & Weft Joins GoodWeave
"Weaving modern design with social responsibility"
Warp & Weft joins a nationwide effort, led by GoodWeave™, to eliminate child labor from the handmade rug industry. Warp & Weft works closely with rug importers whose products are certified child-labor-free by the GoodWeave label. To ensure transparency, these companies agree to open factory doors for surprise visits by local GoodWeave inspectors in South Asia.
Warp & Weft's partnership with GoodWeave represents a commitment to offering its clients rugs that are beautiful inside and out and an opportunity to be part of the solution to a pressing humanitarian issue: ending exploitative child labor in the handmade rug industry.
The GoodWeave label provides customers assurance that their rug was crafted by skilled adult artisans, not by child labor. Purchasing a GoodWeave-certified rug also means that a percentage of its price goes to educate and rehabilitate former child weavers. To date, GoodWeave has rescued more than 3,600 children from exploitation on carpet looms and offered them rehabilitation, education, vocational training, and other services. Contact: (202) 234-9050 or to learn more visit
goodweave.org
October 31, 2008 - Warp & Weft DC captured by Paul Warchol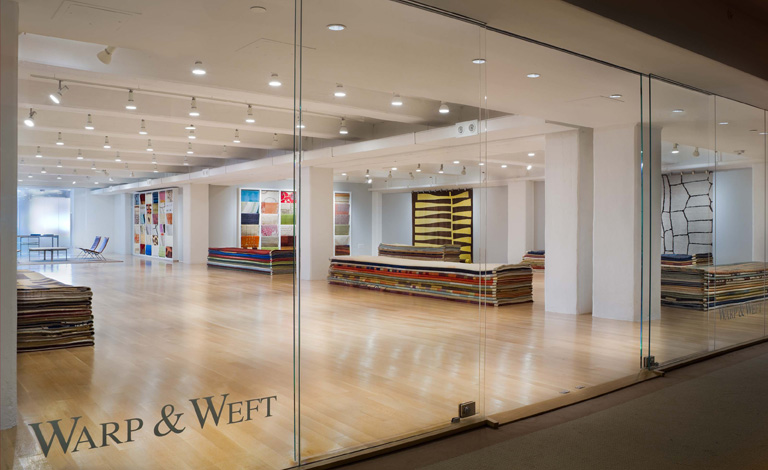 Renowned architectural photographer Paul Warchol spent the day in Warp & Weft's gallery in the Washington Design Center photographing the newly designed space.
October 2, 2008 - Save the Date! Opening Reception in the Washington Design Center
Warp & Weft would like to extend the invitation to all our clients and visitors to our Champagne Reception on October 23rd 2008 from 5 to 7 - we hope to see you all there in Suite 621!
Please RSVP to 202 554 4949 or info@warpandweft.com
May 21, 2008 - Opening soon in the Washington Design Center
Warp & Weft is pleased to announce our expansion into the Washington market with the opening of our new gallery designed by architect David Jameson. Located in the heart of D.C., the Washington Design Center is the region's largest resource for high-end home furnishings and décor. Serving the top architects and interior designers in the business, Warp & Weft is excited about our new presence in Washington's design industry. We look forward to seeing you all at the opening in September 2008.
October 11, 2007 - New Website and Gallery Expansion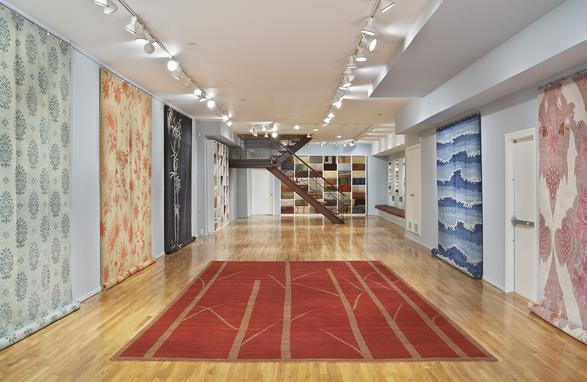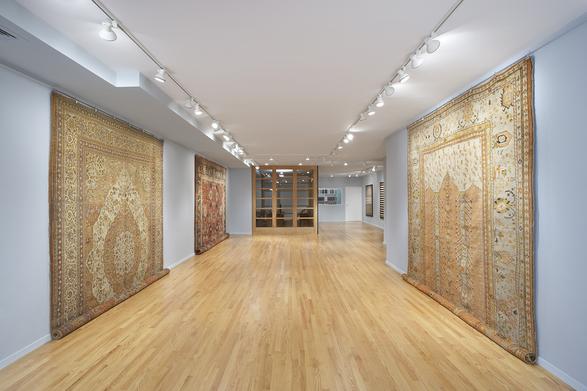 Welcome to our newly designed website. Designed for better user-friendly navigation, you will be able to breeze through our website to enjoy the images – including a new "Installations" page that will display our rugs in actual clients' homes and offices all over the world. This section will be updated continuously as we acquire new images from our clients as well as publications where these projects were published.
The Warp & Weft gallery in New York also underwent some major changes – expanding to the second floor as well as significant renovations on the first floor. After months of construction work, you can now enjoy viewing our carpets on two beautiful floors overlooking Madison Avenue.
May 3, 2007 - 19th Annual International Contemporary Furniture Fair
This May, the 19th annual International Contemporary Furniture Fair (ICFF) will be held at the Javits Convention Center in New York. Because of all the wonderful responses received from our participation in 2006, Warp & Weft will be launching beautiful new designs again this year at the ICFF. Designers and Architects are urged to attend this premier event where some spectacular new and avant-garde home products will be debuting. The show will also be open to the public on the final day of the exhibition.
Open to the Trade Only:
Saturday, May 19 – Monday, May 21
10:00 am – 5:00 pm
Open to General Public:
Tuesday, May 22
10:00 am – 4:00 pm
Warp & Weft Booth #1948
July 1, 2006 - Lhasa Collection
Warp & Weft will be introducing a new line of modern design carpets under their Modern & Custom Collection in Fall 2006. This new collection, called Lhasa Collection, is named after the capital city of Tibet. Carpets will be hand-woven in same high-quality Himalayan wool and Indian mulberry silk like in their original Modern & Custom Collection and have washing and finishing done in Switzerland. The designs, however, will be a more intricate weaves of modern motifs to beautiful renderings of nature – ocean waves (Cape Cod) to exotic flowers (Ming Palmettes) – that is quite different from the sleek, modern designs in the original collection. Available in standard sizes of 8x10, 9x12 and 10x14 and custom sizes and colors.
May 2, 2006 - 34th Annual Kips Bay Boys & Girls Club Decorator Show House
Warp & Weft is proud to announce its contribution to the 34th Annual Kips Bay Boys & Girls Club Decorator Show House, with a custom commissioned rug by renowned architect Campion Platt of Campion Platt Architect, PC in New York. The custom Veranda rug in Cement was incorporated into Campion Platt's "Mr. Wu's Lab," a small alcove space furnished with minimal and architectural lines for a modern lab-like office. The tone-on-tone design of the Veranda – Cement complemented the overall decor in off-whites, offset by soft pink lights that subtly illuminated the space.
The Decorator Show House showcases rooms and spaces designed by many of the city's most prominent and respected interior designers and architects. Everyone is welcome to come and experience the beautifully decorated mansion on East 75th Street.
Show House
4 East 75th Street, New York, NY 10021
Show Dates: April 25, 2006 – May 23, 2006
Monday through Saturday: 11 a.m. – 5 p.m.
Tuesday and Thursday evenings until 8 p.m.
Sunday: 12 p.m. – 5 p.m.
[Admission: $30]
February 17, 2006 - The 18th Annual ICFF Show, May 2006
The 18th annual International Contemporary Furniture Fair (ICFF) is North America's premier event for contemporary design, drawing the most diverse assemblage of design professionals and general public alike to a spectacular display of the latest, avant-garde and gotta-have home products. The 145,000 square feet of Javits Convention center will be abound with more than 21,000 designers, architects, retailers, wholesalers, manufacturers and students during the four days of the Fair, making this event truly the design community's most-visited Mecca of the year.
Warp & Weft is a proud contributor in the 2006 ICFF show and is planning an impressive display for their hand-woven modern Tibetan rugs. As a first time exhibitor, Warp & Weft is set to bring fresh originality to the carpet and rug industry with innovative, statemental pieces to showcase their Modern Collection, the brainchild of the company's president, Michael Mandapati. The booth will be exhibiting in a beautiful gallery setting, showcasing full size design carpets as well as samples in all shades of color.
Open to the Trade Only:
Saturday, May 20 – Monday, May 22
10:00 am – 5:00 pm
Open to General Public:
Tuesday, May 23
10:00 am – 4:00 pm
Warp & Weft Booth #1248
January 4, 2006 - Warp & Weft Modern Collection Catalogs
Warp & Weft Modern Collection Catalogs arrived from Milan, featuring 80 pages of beautiful Modern Tibetan rugs in full color and detail. Please order online or email for more information on how to receive a copy.
February 2, 2004 - Warp & Weft Modern Collection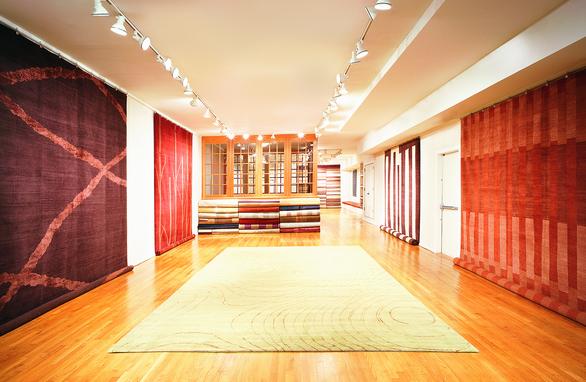 Warp & Weft Modern Collection will be introduced in fall 2004
Please join our mailing list and provide us with feedback to make the site more accessible and easier for you.
May 1, 2001 - Warp & Weft Grand Opening